I love to co-wash my hair when I wear it curly. What is co-washing you ask? Co- washing is when you
Live Clean Damage Therapy Conditioner
wash your hair only using conditioner.
It is beneficial because instead of using shampoo that is drying on hair you are using only conditioner that is cleaning your hair but still moisturizing it in the mean time.
This is very beneficial if you are a person who suffers from dry hair, damaged hair, or weak hair because it nourishes the hair and packs it with moisture.
Hair that is moisturized is one of the keys to healthy hair and combats against split ends and brittle hair. I like to go between Suave, Tressemme, and various conditioners for co-washing and stumbled upon Live clean in Walmart on sale.
I have always seen this brand in the store but overlooked it because I wasn't interested in it particularly. Put a sale sign beside something and now you got my attention.
Live clean is a Eco friendly brand that prides its self on using natural plant based ingredients. On the website they say that there formulations are made with a minimum of 96% replenishable, renewable and sustainable plant ingredients and are great for the earth so come packed with many benefits.
This line has many different formulations but I decided to go with the Professional Damage Therapy Conditioner. I love getting conditioners who work to help damaged hair because I find they are the most moisturizing in the entire line. This one is loaded with benefits described on Live Clean's website:
Enriched with Kendi Oil which has strengthening omegas
Avocado Oil which is moisturizing
Quinoa to deeply nourish and protect the hair shaft and fortify the hair
Vita-Bond Complex™ technology builds hair's intrinsic layer treating and preventing damage caused by heat styling, chemicals, and environmental exposure.
Certified Organic Botanicals
SLS/sulfate free
Petroleum Free
Paraben Free
Pure Vegan
Those listing alone got my attention because I tend to lean towards products that are natural and have limited chemicals in them. They tend to make my hair feel really good and produce the best results for me personally. A few things I noted about the product with my personal use.
Has a nice light smell
Has a nice thick consistency
Does penetrate the hair
Good enough for co washing but didn't find it left my hair really soft as other products have
Curls where nice and tight after use
The bottle a bit small considering the amount I personally use
Pricing reasonable: $4.95 CAD on sale
In most drug stores readily available
Great product listing
All in all I was satisfied with my purchase. I wasn't blown away, this won't be added to my holy grail product listing but I would definitely purchase it again if I am unable to get ahold of my usual suspects or it is on sale again.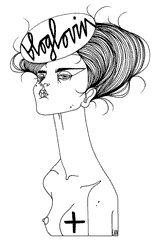 No Pain No Beauty
Promote Your Page Too